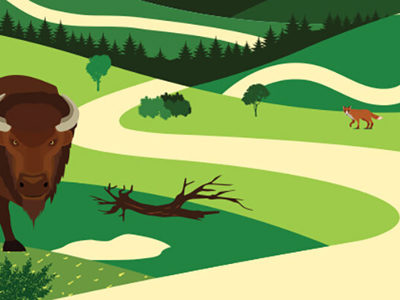 Bison to help bring back UK wildlife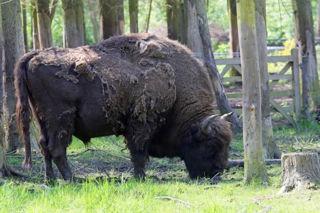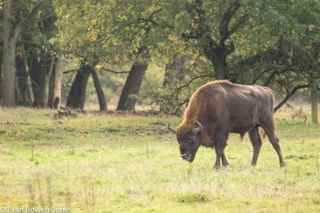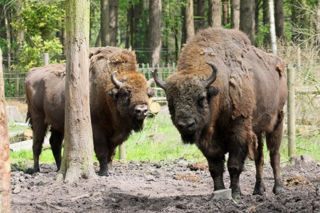 Wildwood Trust and Kent Wildlife Trust receive more than £1 million to fund groundbreaking wilding project. Bison are set to be introduced to a British woodland following a groundbreaking conservation project in Kent, funded by players of People's Postcode Lottery.
Led by Wildwood Trust and Kent Wildlife Trust, the project will take place in Blean woods near Canterbury. The "Wilder Blean" project aims to restore the ecosystem of the area's renowned ancient woodlands.
The European bison is the continent's largest land mammal and adult males can weigh as much as a tonne. The species is known as an "ecosystem engineer" because of its ability to create and improve habitats for other species.
Despite their size, bison are peaceful animals. Their ability to fell trees by rubbing up against them, and eating the bark, creates space for a wide range of other species to thrive. No other species can perform this job in quite the same way. The bison will be accompanied by other grazing animals to create the greatest plant and animal biodiversity possible; creating stronger habitats through natural processes that will withstand the current environmental crisis and species decline, and in the long run, reverse it.
Bison releases have already proved very successful in European countries including Poland, Romania and the Netherlands, not only in restoring habitats but also giving people a truly wild experience.
The project has been made possible by an award of £1,125,000 from the People's Postcode Lottery Dream Fund. The Dream Fund, run by the Postcode Dream Trust, was created to give charities and good causes the opportunity to deliver their dream project over a two-year period.
Kent Wildlife Trust owns several woodlands in the Blean area, covering a total of almost 2,500 acres – about the size of a thousand football pitches. This makes it one of the largest areas of surviving ancient woodland in England. The trust's long-standing goal is to protect wildlife and restore the natural habitats on which it depends.
Kent Wildlife Trust will be responsible for the overall management of the project, including the installation and maintenance of infrastructure, such as fencing for the trial area.
Wildwood Trust is a leading native species conservation charity, whose native species animal park is situated next to the woodland where the project will take place. The Wildwood Trust team are renowned experts in native species conservation and animal husbandry. They will be looking after the animals daily and ensuring their welfare.
The project will involve extensive consultation and engagement with local residents, landowners, and interest groups who know and love the area. Local people will have the opportunity to become involved in the innovative project and help return the land to a functioning ecosystem, brimming with life.
Laura Chow, Head of Charities at People's Postcode Lottery, said:
"The introduction of these extraordinary animals to British woodlands will be a hugely significant moment in the fight to protect and enhance biodiversity. The players of People's Postcode Lottery provide vital funding to a wide of range of environmental projects. I am delighted this award from the Postcode Dream Trust will enable this important project to go ahead."
Paul Whitfield, Director General of Wildwood Trust said:
"The partners in this project have long dreamt of restoring the true wild woodlands that have been missing from England for too long. This will allow people to experience nature in a way they haven't before, connecting them back to the natural world around them in a deeper and more meaningful way. It will inspire people and demonstrate to policy makers that nature presents the answer to the crisis we face. It will empower them to make a difference and it will prove that there is a way to make things better in these challenging times."
Paul Hadaway, Director of Conservation at Kent Wildlife Trust said:
"This award means we can now take an important step towards reversing the terrifying rate of species loss in the UK. The Wilder Blean project will prove that a wilder, nature-based solution is the right one to tackling the climate and nature crisis we now face. Using missing keystone species like bison to restore natural processes to habitats is the key to creating bio-abundance in our landscape."
Featuring on Countryfile:
The Wilder Blean story will be featured on Countryfile, airing on Sunday evening, 12 July 2020 on BBC One.
Find out more about the project here.
Wildwood Trust:
Wildwood Trust opened in 1999 as a centre of excellence for the conservation of British wildlife, and was established as a registered charity in 2002. Wildwood is Kent's best British wildlife park.
Home to over 200 native animals, past and present and set in 40 acres of beautiful ancient woodland where visitors can see bears, wolves, bison, deer, owls, foxes, red squirrels, wild boar, lynx, wild horses, badgers and beavers plus many more.
As one of the leading British animal conservation charities, Wildwood Trust is dedicated to saving Britain's most threatened wildlife. Wildwood Trust have taken part in many ground-breaking conservation programmes to date, which include, saving the water vole, using wild horses to help restore Kent's most precious nature reserves, bringing the extinct European beaver back to Britain and returning the hazel dormouse & red squirrel to areas where they have been made extinct.
Kent Wildlife Trust:
Kent Wildlife Trust is the county's leading conservation charity with more than 31,000 members and over 1000 registered volunteers. We manage and protect over 9000 acres of land across more than 80 different sites and nature reserves, alongside 3 visitor centres. We work closely with local communities, landowners and partners to protect and improve habitats in the countryside, coast and town for the benefit of the wildlife and people of Kent. The charity also campaigns against inappropriate and damaging development; and educates and inspires young people to help secure a more sustainable future and create a Wilder Kent.
Visit the website here: https://www.kentwildlifetrust.org.uk/
Postcode Dream Trust
The People's Postcode Lottery Dream Fund offers organisations the opportunity to apply for funding to bring their dream project to life over a two-year period. Winning Dream Fund projects receive their funding through Postcode Dream Trust, a grant giving trust which is funded by players of People's Postcode Lottery.
Visit the website here: https://www.postcodedreamtrust.org.uk/
People's Postcode Lottery
People's Postcode Lottery manages multiple society lotteries promoted by different charities and good causes. People play with their chosen postcodes for a chance to win cash prizes. A minimum of 32% from each subscription goes directly to charities and good causes in Britain and internationally. Players have raised more than £500 million so far. For details of the charities and good causes which are promoting and benefitting from the lottery draws, please visit https://www.postcodelottery.co.uk/good-causes/draw-calendar
It costs £10 a month to play and winning postcodes are announced every day. The maximum amount a single ticket can win is 10% of the draw proceeds. For details, please visit www.postcodelottery.co.uk/prizes
New players can sign up to pay using direct debit by calling 0808 10 9 8 7 6 5. New players who sign up online at www.postcodelottery.co.uk can pay using direct debit, debit card or PayPal.
Follow us @PostcodePress
Postcode Lottery Limited is regulated by the Gambling Commission under licence numbers: 000-000829-N-102511 and 000-000829-R-102513. Registered office: 2nd Floor, 31 Chertsey Street, Guildford, Surrey, England, GU1 4HD
Sign up here to receive our newsletter
;