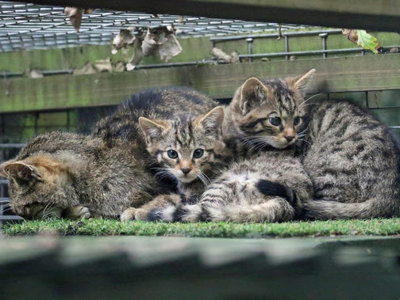 Britain's rarest animal given new hope as four wildcat kittens are born at Wildwood in Kent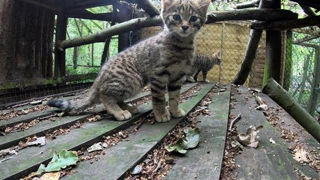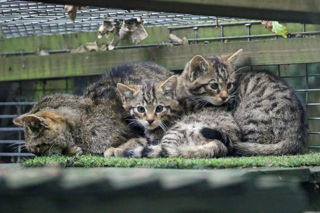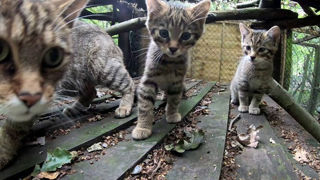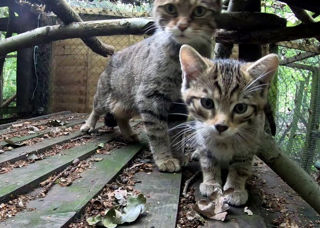 The kittens have been caught on video by remote cameras at Wildwood Trust near Canterbury – a charity dedicated to the restoration of Britain's lost wildlife. Wildcats are Britain's rarest creature and are now classified as "functionally extinct" in the wild.
Wildwood's wildcat Keeper, Sally Holt said:
"This outstanding success has come about through decades of hard work; with the most numbers we have ever bred to one mother. This is so rewarding because this is mother Jura's first ever litter and we are always very worried first-time mums may lose their kittens."
Wildwood's dedicated keepers have learned over many years how challenging raising wildcat kittens can be and are particularly proud of how well first-time mum Jura is coping. Wildcat numbers are now so low that new research has concluded there is "no longer a viable wildcat population living wild in Scotland".
Wildcat Keeper Jack Poncé added:
"We are so proud of our lovely kittens, two girls and two boys who are now nine weeks old. Mum has kept them hidden until now, but we hope visitors can start to catch glimpses of these curious youngsters as mum lets them explore their woodland home."
Wildcats once roamed all over the UK, including Kent and the South East. Persecution and habitat destruction drove them north into their last refuges in Scotland, but this year scientists classified them as functionally extinct as so few have been observed.
Wildwood Director & Founder Peter Smith said:
"This shocking news should spur everyone to call for the immediate reintroduction of wildcats and ensure enough land is rewilded to guarantee their survival. After successful reintroductions & habitat protection wildcat numbers are expanding across Europe, once again Britain has been shown up to have one of the most damaged ecosystems in the world, immediate action is needed to rewild the UK and stop the wasteful misuse of our land and natural resources. "
Recent scientific analysis has shown that reintroduction to Kent, Sussex and Surrey would give wildcats the best chance of survival and Wildwood Trust is partnering with other organisations to call for Wildcat reintroductions to be put in place.
Sign up here to receive our newsletter
;