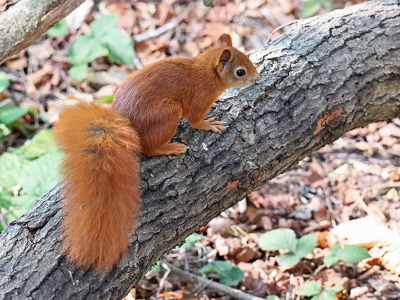 Red Squirrel captive breeding and reintroductions
The introduction of an American species of squirrel (Sciurus carolinensis) in the late 1800s set in motion conditions that drastically reduced the number of native red squirrels in the UK. The Grey Squirrel can out-compete the Red Squirrel for food resources, and it also carries the squirrelpox virus which is fatal to reds.
By 1945 much of England had very few or no populations of Red Squirrels, and today the range in England is restricted to island populations (where being surrounded by water gives added protection from greys), such as the Isle of Wight, Brownsea, Poole harbour and Mersea.
Red Squirrel populations in the northern counties of England, such as Cumbria and Northumberland, are helped by the hard work of volunteers who monitor and defend them from greys. Wales has seen a successful reintroduction project on the Island of Anglesey, and its fragile mainland populations are being closely monitored with a view to reinforcing existing populations. Scotland is the stronghold for Red Squirrels and a recent successful translocation project has introduced new populations into the Highlands.
Elsewhere in England the Red Squirrel is all but extinct. There are approximately 140,000 Red Squirrels in the UK of which, approximately 120 000 are in Scotland. The number of Grey Squirrels, on the other hand, is approaching 3 million in the UK.
Wildwood Trust has successfully bred Red Squirrels for twenty years and contributed to the reintroduction projects of Anglesey Island, and Clocaenog Forest in Wales. We have joined forces with other major captive breeding collections to implement a national captive breeding group. This group relies on information held in a studbook maintained by The Welsh Mountain Zoo. A studbook keeps crucial information on breeding, which, together with high standards of husbandry and welfare, provides a healthy, genetically diverse captive population. This population can assist in any future conservation projects.
Sign up here to receive our newsletter
;