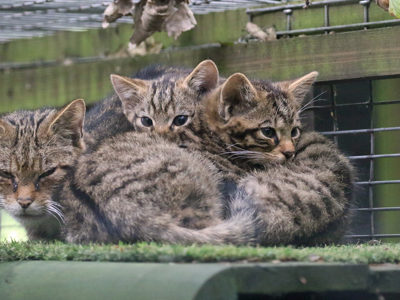 Yes, of course. Wildwood animal adoptions are the perfect gift for any animal lover. You can purchase online, when you visit the park or by calling us at Kent on 01227 712111 or Escot on 01404 822188.
Yes, you can adopt any of the resident animals at Wildwood. You can purchase an animal adoption through our online shop, or if you cannot see what you are looking for, don't worry it may just be hiding. Do call us at Kent on 01227 712111 or at Escot on 01404 822188.
You can adopt any animal at Wildwood from just £25.00. We offer a Digital Download option for £25.00, a Basic pack for £30.00, a Premium pack for £45.00 and a Deluxe pack for £60.00. Please see our adoptions page for more information. Or if you would like something a little more bespoke, please get in touch with us to discuss.
Currently adoptions are only available to purchase on an annual basis.
Yes, you can. We will let you know as soon as your adoption pack is ready so that you can collect when you visit us.
All adoptions include the following;
Presented in a beautiful folder
Personalised plaque at your chosen animal's enclosure at Wildwood
Photograph of your animal by our resident photographer
Certificate of adoption
Wildwood one-day entrance ticket
Information factsheet about your adopted animal
Regular e-newsletters of what's happening at Wildwood
Wildwood pen
(Premium package includes two Individual one-day entrance tickets and A5 photo)
(Deluxe package includes a family one-day entrance ticket, A4 photo, Wildwood lanyard starter set and inclusion on our 'deluxe' adopters webpage)
(Digital contents are downloadable and package does not include a Wildwood one-day entrance ticket)
As a conservation charity dedicated to preserving British wildlife, all of the money raised goes towards the cost of caring for our animals and our conservation projects to protect some of Britain's most threatened wildlife.
The ticket is valid for one day for one usage, and is valid for one year. The ticket can be used at either of our parks in Kent or Devon, though we do hope to see you at your adopted animal's park.
We always do everything that we can to ensure that our animals are on-show everyday, however this is not guaranteed. Our animals could need to be taken off-show due to maintenance work or veterinary visits. We would suggest contacting us prior to your visit so that we can advise of any relevant updates on your adopted animal.
Our animals cannot be exclusively adopted, however we can always advise of any animals that may not be being currently adopted, if you wish to have something a little more special for you.
If your chosen animal sadly dies, we will transfer your adoption to another within the same species. If this is not possible, we will offer you the choice of freezing the adoption until we have another animal of the same species within the park, or we can transfer to another animal for you. Please note that we are unable to refund any part of your adoption as all contributions go towards the upkeep of our animals.
Yes, talks do need to be booked in advance by contacting your local park. At Kent you can call us on 01227 712111 or email adoptions@wildwoodtrust.org and Escot you can call us on 01404 822188 or email visitescot@wildwoodtrust.org. Please try and provide us with two or three dates as not all dates are available due to keeper duties. Once booked, you will need to bring your voucher with you when you visit us.
Towards the end of your adoption year we will contact you by email or post, and if you wish you can choose to adopt your animal for another year, or select another animal. Your support as one of our Wildwood Animal Adopters is really appreciated and makes a huge difference to the future of the animals we care for.
So long as you let us know within 30 days of delivery, you may return the whole order or an individual product in its original packaging and condition for a full refund (less postage fees). Where a refund is claimed, we will process the refund as quickly as possible, but please allow up to 14 days for the credit to reach your account. If you wish to return an item, please contact your local park. Contact us at Kent on 01227 712111 or email adoptions@wildwoodtrust.org, or Escot on 01404 822188 or email visitescot@wildwoodtrust.org.
As our regular adoption packs are designed as gifts, we do offer specific corporate adoptions aimed at organisations. For more information please contact:
Simon on 01227 712111 or adoptions@wildwoodtrust.org
If you are looking for a way to remember a loved one by, with all of our adoption packages we will gladly include the words "in memory of" on the plaque too as a way to commemorate their life. For more information please see our adoption page or call us at Kent on 01227 712111 or Escot on 01404 822188.
Sign up here to receive our newsletter
;